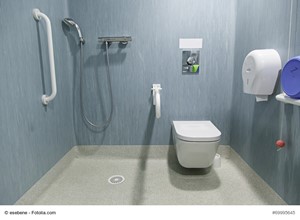 When a loved one needs a bit more help to get around the house, whether they have simple physical limitations or rely on the use of a wheelchair, you're going to need to make some major changes both inside and outside the home. You may be overwhelmed with the idea that you need to overhaul your entire home in order to make suitable accommodations. The good news is that you can boost safety around the property and make your home easier for you or loved ones to get around without huge renovation projects that will take months at a time. Below, you'll find some of the most important projects that will need to be completed in order to make a home handicap accessible as well as safe and healthy.
Check The Doorways
If wheelchair use is part of the accommodation, you'll need to check the width of the doorways. Some doorways may need to be modified in order for wheelchairs to move freely about the home. Widening doorways can cost anywhere between $500-$1,000 to complete depending on where the throughway is in the home. 
Adjust The Showers
The safest way to make a shower handicap accessible to is make it a walk in tub or a wheelchair accessible tub. Depending upon the extent of the accommodations that are needed, you can go a cheaper route and install a bench seat in an existing shower. Hand rails can also be added to the tub for extra safety.
Think Of The Entire Bathroom
The simple addition of grab bars can make a big difference in the safety of a bathroom. Make sure that the bars are installed in easy to reach places. Also any supplies that are needed in the bathroom like soaps, shampoos, and toothpaste should be easy to reach. A toilet riser can also be considered to help people who have issues bending down in order to make the toilet easier to use. 
Don't Forget The Kitchen

     
The kitchen should be a place where accommodations for handicap individuals are definitely present. First, all supplies should be easy to reach. Next, appliances should be adjusted accordingly. Grab bars should also be installed in the kitchen to make safety a priority and accessibility easy.
Install Ramps


Whether or not a disabled person uses a wheelchair, installing a ramp can make a huge difference in the home for a disabled individual. Converting stairways to ramps actually isn't as expensive as you might think it would be, with costs starting at just $100 for a basic ramp. Custom ramps can run a bit more expensive- as much as $1,000. These make it easier for disabled people to get in and out of the home or around the inside of the home with ease. The total cost can vary based on the size of the ramp and the type of materials being used.
Mind The Floors


To make a home handicap accessible, thick carpets should be removed. Any types of flooring that make it hard to maneuver a wheelchair or walker should be modified.