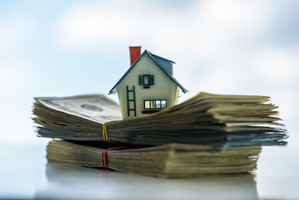 Buying a home is one of the biggest financial milestones you'll reach in your life. If you're a first-time homebuyer, it can be scary to take the plunge and make a down payment on your first home.
Down payments are one element that makes up the factors which determine your monthly mortgage payments, and in turn, how much you'll be paying toward your home in total. So, it's important to understand just how much to save for a down payment.
In this article, we'll talk about down payments, why they matter, and your options for saving up for a down payment.
Why down payments matter
A down payment is simply the amount of money a buyer pays at the time of closing on the house. Down payments help assure lenders that you will make your monthly mortgage payments because you have invested a substantial amount of money into the house and therefore risk losing your down payment if you fail to pay the mortgage and your house is foreclosed on.
If you're eager to buy your first home, you may want to make the smallest down payment possible so you can move in sooner. However, a smaller down payment typically means a larger monthly mortgage payment. That's because your mortgage payment depends on several factors.
When a lender determines how much they will lend you towards your home and how much your monthly mortgage payments will be, their formula takes into account your down payment, your credit score, and the value of the property. The higher your credit score and the higher your down payment is, the less your monthly payments will be.
Mortgage types and down payments
Many first time home buyers cannot afford large down payments on their first home (20% or more). As a result, there are loan types insured by the Federal Housing Administration that are offered for as low as 3.5% of the mortgage amount.
If you aren't approved for an FHA loan but plan on making a down payment of less than 20%, you can still buy a home with private mortgage insurance (PMI). With PMI you pay a monthly premium for your insurance in addition to your monthly mortgage payments.
How long and how much to save
So, how much should you save? The short answer is as much as possible. However, if you need to move soon because of life circumstances, it isn't always an option to hold off on moving for long periods of time.
If you're currently renting each month at high prices, it might make more sense to put that money towards your first home, an asset which will likely increase in value, rather than spend it on rent which you get no return on.  
One of the best ways to save for a down payment is to set up a new cash savings account that will automatically deposit a portion of your paycheck each week. Having an off-limits account is a great way to save without the temptation of spending it on luxuries if the money would normally be sitting in your checking account.
Another option is to start investing. If you're in no rush to buy a home and have the financial resources, investing pays off much more than a savings account does when it comes to increasing assets.
Regardless of how you choose to save, the most important takeaway is that you take action now to start saving and you don't deviate from your savings plan for any reason.