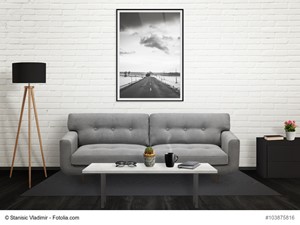 Decorating your home as an adult can be a taxing task. Transitioning from a college student to a professional can take some time. Once you buy your first home, you may find that your tastes for decorating need an upgrade. Those old posters and funny magnets have got to go along with your more sophisticated lifestyle. The decor in your home should make you feel comfortable in your surroundings. You should express your own personal interests through the artwork that's displayed in your home.
Pieces of artwork shouldn't just be run-of-the-mill. You need something that will let your personality shine through. You can collect unique pieces in your travels, use personal photographs that you have taken, or simply find things that have meaning for you.
It can be sort of intimidating to dive into a more mature way of decorating but, it can be very rewarding. You'll also learn a lot about your own style and yourself. Through this self-discovery, you'll find artwork that you can continue to grow with in your home. Below, you'll find some tips for choosing the right artwork for your home.
Set A Budget
Buying artwork can be an investment. If you're a new homeowner, you may need to hold back on getting expensive art for a few years. Set a limit for how much art you want to buy and what you can afford. There are plenty of ways to get decorating pieces for your home for less money. Many stores offer artwork that can add some character to your walls. Even if these aren't Picasso originals, they can certainly add some flair to the emptiness of a new house. Everything that adds personality to your home isn't hanging on a wall either. Your decor includes the small figures on your tables, statues, plants, and more.
Have Goals In Mind
If you begin hanging artwork without some reason, your decorating scheme could end up being a disaster. Map out a plan for each room. Think of themes, colors palettes, and the vision for the space. You don't want to make a serious investment in artwork only to find out that it doesn't fit with your wall color or furniture. When choosing artwork, it's important to consider each room as a whole.
Know That Tastes Change Over Time
If you do invest in an expensive piece of artwork, know that it may not suit your needs forever. That's OK! You can always sell artwork and find replacement pieces over time. It's not expected that whatever you hang in your home when you move in will stay there for the next 20 years! Artwork very much flows with our lives, so go with the flow.