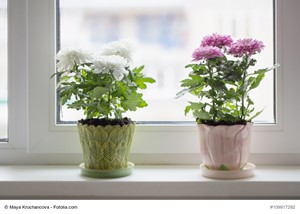 Houseplants may seem like a strange thing to bring into your home. Plants belong outside, don't they? Plants and people actually have a relationship where they need one another. Plants produce much-needed oxygen for humans. Humans release carbon dioxide, which plants need to perform photosynthesis. Plants should be placed throughout the home, especially in bedrooms, to release fresh air throughout the night when sleeping. Essentially, the right plants in your home can help to improve your overall health and well-being. 
Increases Humidity
Many people complain of having dry air in their homes. Plants actually release about 97 percent of the water that they take in. This moisture is released back into the air and increase the humidity in the air. This means that putting several plants together can really help to increase the moisture levels in a room. Having a more moist room helps to keep respiratory symptoms from flaring up as well as decreases the number of colds, dry skin flare ups, and other ailments associated with dry air.     
Natural Air Purifiers
Plants are natural air purifiers. They remove toxins from the air and even get rid of a large percentage of volatile organic compounds (VOCs). These compounds can be found in everything from paint to newspapers and textbooks. VOCs are actually transformed into food for the plant. 
Just How Many Plants Should You Have?
To improve your health and the air quality in your home, you'll want to place plants about every 129 square feet. For air purification purposes, you'll want to place about 16-18 plants in an 1800 square foot space. This may sound like a lot, but if you consider spreading plants throughout your home, you'll fill the quota fairly quickly. Larger plants can also be used, placing one or two per room to fill this suggested requirement.  
Best Houseplant Choices:
Gerbera daisy

Spider plant

Boston fern

Philodendron

Snake plant

Peace lily
These plants all have different benefits but most are best known to purify the air, improve happiness, and increase well-being.
If you don't have a green thumb, you should definitely get one. Most houseplants are not that hard to take care of. It's easy and fairly inexpensive to equip your home with a good number of houseplants. The greenery will also add to the ambiance and decor of your home's overall theme. Every room, including the bathroom, can benefit from these plants. Think of houseplants like another member of the family- one that gives you oxygen and clean air to breathe!