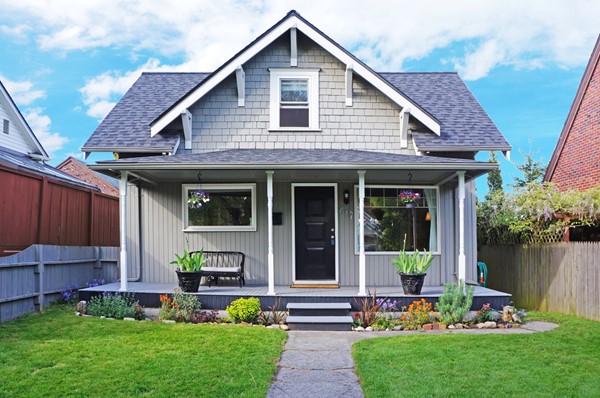 It is no surprise that first impressions matter, and with a home, curb appeal is where it is at. Curb appeal at every budget point is a meaningful discussion to have, because who doesn't like pretty things?
Here are a few affordable curb appeal ideas that will work for most types of New England homes.
Go Green
The first thing you will likely think about to enhance curb appeal is adding fresh flowers and greenery. This upgrade can include adding window boxes and planters, which use foliage to bring out critical visual points such as entryways and windows. A hanging planter can be used in place of a standing flower box if space is an issue.
Lawn Care
Back and front yard maintenance is also an essential part of home improvement. A large part of that is lawn care. Pull up creeping weeds, rake away leaves and clip your lawn from time to time- preferably at least once a week. To keep your garden a glistening green, be sure to turn your sprinkler on, especially during summer. If you don't actually have a green thumb, you could opt for artificial turf or shrub beds.
Add a Bit of Door Zest
Rather than a front door that blends in with those of all your neighbors, try one that offers a striking contrast. Cut your expenses by painting the door yourself, as it is not a difficult task (get on YouTube if you're not a DIY enthusiast). Go for bold colors that contrast tastefully with the home's exterior theme. There are apps available for virtual color testing as well.
Light it up
Dark entryways are not at all welcoming. For those with a hanging pendant or sconce by the front door, switch it with something more fresh and fun. Clear out all debris and cobwebs around the outdoor fixtures to brighten up that space and give it a clean, inviting ambiance. For additional light sprucing for a walkway, invest in solar-powered lanterns or porch-string lights.
Symmetry is your friend
Symmetrical patterns create focal points, and as such, look pleasing and visually satisfying. Achieve this look by placing matching plants or lanterns on both sides of the front door. The outside of the property can be similarly jazzed up by doing the same on either side of the garage door.
Mailbox Makeover
A stylish mailbox is a relatively easy DIY project that can produce a noticeable but understated difference to a house's curb appeal. Instead of the conventional wall mountable one, install a stand-alone one for a complete front yard makeover.
Begin collecting plants to spruce up your yard whenever you're near a gardening store, and take those first steps to spruce up your home's curb appeal.